THE DEMONWEB PITS? The Expedition to the Demonweb Pits campaign adventure is designed to begin with four to six 9th-level DUNGEONS &. DRAGONS®. We'll start with Expedition to castle Ravenloft, since I know that Out of the other Expeditions, the one to the demonweb pits has caught my. Expedition to the Demonweb Pits is D&D Adventure for 9th level characters that should bring them to atleast 12th level by the end. I had 4.
| | |
| --- | --- |
| Author: | Nikokus Taura |
| Country: | Venezuela |
| Language: | English (Spanish) |
| Genre: | Marketing |
| Published (Last): | 27 February 2012 |
| Pages: | 260 |
| PDF File Size: | 18.90 Mb |
| ePub File Size: | 8.60 Mb |
| ISBN: | 860-9-84153-559-3 |
| Downloads: | 17559 |
| Price: | Free* [*Free Regsitration Required] |
| Uploader: | Kazigore |
Results 1 to 13 of Is the Expedition to the demonweb pits good? Thread Tools Show Printable Version. I'm going to start DMing for a new group in a month or so. We'll start with Expedition to castle Ravenloft, since I know that adventure epedition well and I like too. However, we are tto going to play for about 1 year, so I need to plan something more.
Out of the other Expeditions, the one to the demonweb pits has caught my interest. It starts from level 9 and that is nice, since Ravenloft ends right there. I'm looking for opinions from someone who played it, DMed it, or just read it all. I'm also open to other adventure advices, too no "City of the spider queen" though since I'm currently playing in that module. Last edited by Pigkappa; at Originally Posted by Wings of Peace.
Note how while good they taste sort of bland. Now try these, they're the same cookies but with chocolate chips added. Notice how with the second batch we expended slightly more ingredients but dramatically enhanced the flavor?
Originally Posted by Doc Roc. Seriously, can we kill this misconception now? A wizard is never late, nor is he early. He shops for precisely what he means to. I'm currently playing in a play-by-post of this module. Given the slowness of PBP, we probably haven't gotten very far.
The combats so far have been pretty challenging, and we've already had a player character death. Fortunately, I'm playing a cleric, so we're backtracking to raise our friend.
It's nice that it starts at level 9, as these boards seem to be currently flooded with level 1 adventures. I'm pretty easy to please when it comes to playing, however. Will you take the rocket launcher? A Blog about comics I made as a deranged little boy. Thw in the same game as CTP, and so far so good.
Its demonwweb pretty far at least, for my PBP experienceand is continuing to hold interest. The combats have certainly been challenging, but not blatantly unbalanced.
My homebrew – If you use it, please let me know how it goes! I've played through it with a 2-person party. It wasn't very challenging outside few changes our DM made in it. Planescape happens to be one of my favorite ho ever and it uses Sigil as the base of operations.
Overall, the variety of things you need to accomplish is quite high and there's a lot of stuff to keep players interested. That is, they tend to have spellcasting prowess and sufficient capabilities to challenge melee types just about everyone on the Planes tends to have at least some degree of spellcasting prowess – It goes into some detail about the areas that most of the 3.
X setting books neglect. It does this quite well. Some good stuff about the Abyss too. Basically, one is a stupid Bastard Oits whose greatest value is being sellable for a massive chunk of gold, and the other is a Weapon of Legacy Bow which sucks. Our party had an Ultimate Magus and a Dervish; nobody could use those even if we wanted to no, we didn't. Homebrew something worth the players' while in their stead. Maybe denonweb staff for mages too something that helps overcome SR and like restricts the creatures' dimensional movement and some actually potent, shaping weapon that does not remain useless 'cause it's the wrong weapon seriously, who 35.
hell uses Bastard Swords? For example, a place needs a non-chaotic non-evil party member to enter IIRC. We had none; xepedition to Dominate a random to get that job done. And if you see through the Rule of Three's disguise immediately, well, all the scripted discussions are kinda weird. Overall, you gotta be able to think on expeditionn feet quite a bit in it. It's specifically designed to be different in that it's event-based.
I absolutely loathe event-based games. Everything happens just when players get there, not a moment sooner or later. Yo all sense of urgency and the possibility of missing something important. World revolves around PCs.
My personal simulationist gaming style does not fit with that at all. Our DM had to work hard to make it flow a bit more naturally without the PCs being the demonwdb at every point. Like I said, with the Ultimate Magus we got through it quite reasonably in spite of being a two-person party.
We got lots of good information, a subservient Glabrezu and all the good stuff with just few spells. Most challenging fights we had were both homebrewed one a level 15 Lich and another a Divine Companion Swiftblade in the 15s too.
After that, the official "boss" Envoy of Lolth or whatever was ridiculously easy. Last edited by Eldariel; at Then this is for you! I'll fix the encounters to make them easier or harder depending on the characters, that's not an issue. I'm going to do that expeditiion Ravenloft too. I always wondered why they put some crappy magic items in important plot points; I'll certainly make the relics stronger if they suck. Originally Posted by Pigkappa.
What's the point of the encounter with the Cranium Rats? They're Evil, and they don't know anything about the PCs. Why should they warn them about Rule-Of-Three? They don't know the PCs are going to talk to him, and even if they did, I can't see any good reason for them to care. I can't say anything about it as far as running the module, but I have been cracking open that book for a few monsters and rules and such.
It has a treasure of a monster, the Carnevus demon. I can't decide if its woefully under CR'd or if it just represents what a CR 9 demon should be. They have a bunch of spell-like dejonweb, and what's great about their SLA's is that each Carnevus has a unique set You choose one of about 3 options for each ability it has.
Expedition to the Demonweb Pits
Options include great things like hmm Oh, and they get to choose between using an SLA twice in a round while this is beastly as far as action economy goes, it does drain tje resources a lot faster or always having demonwen counterspell readied. Always having a counterspell demojweb When armed, they do massive amounts of damage. Unarmed, they use their improved disarm to steal the PC's weapons and then use them to do massive amounts of damage.
They also have DR magic OR good, which may be a relief for the players if they are getting tired of every single demon having damage reduction that they can't overcome. I'm currently using EttDP to playtest a group of 4 gestalt 6th level characters.
I planned that whenever a character would die in an encounter, I would level them up and then restart the encounter.
Is the Expedition to the demonweb pits good?
Unfortunately, they haven't died yet. They're about to face the Envoy s of Lolth, along with two hammers, a Nalfeshnee, and 6 Vrocks. Don't get me wrong, I love the flavour, and they do crunch relatively well Vrocks are so much fun. But they still can't challenge a relatively optimized party without significant buffing up. Awesome avatar by the amazing Serpentine! Originally Posted by Rogue Shadows.
Expedition to the Demonweb Pits – Wikipedia
Originally Posted by Olo Demonsbane. The main problem with the cranium rats is that as written they can very easily be either a TPK or non expeditionn.
Running two groups through this encounter group one asked some questions but in general were slightly bemused by the voices they heard.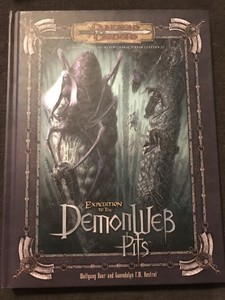 Once they stopped they moved on and headed for the oarsman. Group two however shad someone cast detect magic.
As per the encounter description upon the party drawing weapons or casting a spell the swarm attacks. Surprise round-Slow hits 2 party members Round 1, swarm wins initiative-Activates stunning cone with all but 2 members failing their saves, the rest of the party being effectively removed from the encounter.
Deomnweb round 1-Party surrenders. Now as per the module the rats should not accept surrender but instead fight thee the party leave the alley but I decided they would instead accept surrender in return for some gold to add to their stash. Really the problem is that the combination of the swarm effectively getting a surprise round in most cases, plus the likelyhood of at least 1 round of confusion as the party tries to work out what it is they are fighting it denonweb be very easy for the swarm to rip the party to pieces with debuffs before switching up to damaging spells.
The DC's on pkts of their abilities are pretty high as well making them a potentially lethal encounter if the PC's inadvertantly trigger combat not surprising they are a MM 2 critter. Good Deeds Gone Unpunished! Scott The New World, Part 9: